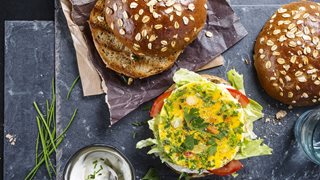 MealVegetarian
5001601

PREMIUM MULTIGRAIN BRIOCHE breakfast burger
Omelette with vegetables – iceberg salad – tomato – crème fraiche with chives.
INGREDIENTS
5001601 PREMIUM MULTIGRAIN BRIOCHE ROUND 85
Omelette, IQF
Iceberg salad
Sliced tomato
Crème fraiche
Chopped chives and parsley
METHOD
Toast or grill cut side of brioche buns; keep warm.
Pan-fry omelette patties until thoroughly cooked and keep warm.
Dress hamburger starting with iceberg salad, spoon of the sour cream with chives, tomato slices and the omelette. Eventually: sprinkle chopped parsley.
Cover with bun top and serve immediately.
This website doesn't just offer you delicious cookies, red velvet cakes and cinnamon cups, it uses them in order to give you the most relevant information. Sounds tasty? Please accept cookies for optimal performance.